Many years ago I saw a short animated film entitled 'For Your Pleasure' by Derek Phillips. It depicted Constable's 'The Haywain' being slowly concreted over by modern society.
Recently I was given a photograph of The Church of St. Martin-in-the -Fields. It was named thus because, when it was built, it was actually in the middle of fields outside of London. It is now surrounded by Trafalgar Square with the edifice of the National Gallery opposite. Could I put the Church back in the fields? I did but modern society caught up with the church again.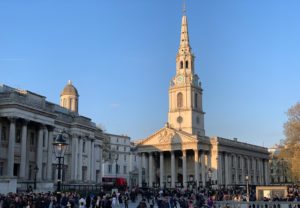 The Haywain v2 from Gordon Bain on Vimeo.